15%
for short time only
only while stocks last
334.04 €*
283.93 €*
Shipping costs for Germany: 5.95 €*
Shipping costs for other countries
Delivery time: 3 - 7 workdays
Moveandstic Leni - Climbing Tower with Toddler Slide
[MAS-6011-Leni]
Please note: Unfortunately, this item can not be shipped abroad
Climbing tower with toddler slide
Moveandstick Toddler model with various climbing steps, hiding places and a ramp.
Dimensions: 1.25 x approx. 2.00 x 1.25 m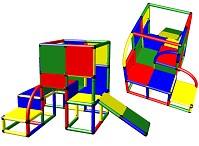 This model contains:
2x 875000 6-arm space coupling, black
3x 875001 Space Coupling 5-arm, black
16x 875002 4-arm space coupling, black
13x 875003 Room coupling 3-arm, black
3x 875004 Surface coupling 4-arm, black
14x 875005 Surface coupling 3-arm, black
3x 875006 Surface coupling 2-arm, 90 °
18x 875009 tube 35 cm, blue
18x 875010 tube 35 cm, green
18x 875011 tube 35 cm, yellow
18x 875012 tube 35 cm, red
4x 875013 plate blue 40x40 cm
4x 875014 plate green 40x40 cm
4x 875015 plate yellow 40x40 cm
4x 875016 plate red 40x40 cm
3x 875017 plate blue 20x40 cm
2x 875018 plate green 20x40 cm
4x 875021 tube 15 cm, blue
4x 875022 tube 15 cm, green
3x 875023 tube 15 cm, yellow
2x 875023-90 ° drilled tube 15 cm yellow 90 ° drilled
5x 875024 tube 15 cm, red
1x 875027 tube 75 cm, green
1x 875029 tube 75 cm, red
1x 875037 pipe bend blue
1x 875039 elbow yellow
1x 875040 elbow red
86x 875097 plate buttons
30x 875155 pipe closure, blue
32x 875156 Pipe closure, green
28x 875157 tube closure, yellow
28x 875158 pipe closure, red
When used in public areas (kindergarten, childminder, etc.), this model is also available with an aluminum reinforcement for an additional charge. Please contact us, if you are interested.
Safety note:
This item is not suitable for children under 1 year.
Small parts can be swallowed by children.
Only for domestic use.
Construction only by adults.
Use only under adult supervision.
from the category:
Climbing and crawling