Minka and Fred - Fiffi Puppy Learning School Dog Plate Taster Plate
[MAS-6040]
Dive into the world of Move and Stic and discover the new products of the 'Minka & Fred' series! The new product line now also offers great models for your pets - no matter if for cats or dogs - here you can find the right one for you and your furry family member.
The Puppy Learning School can be used in many ways and is a great product for any pet. Whether as a taster plate, food bowl or water bowl - the small bowl is multifunctional and can be used individually.
Puppies can develop their senses and perception here.
The puppy sniffing plate has a size of 45 x 45 cm. On one side, the plate is 5 cm high above the floor.
It can be covered with different materials or written on with chalk.
Due to the compact size, the tray can not only be placed at home, but can also be easily taken anywhere. Pack the Puppy Learning School Sniffing Plate and take it with you, e.g. on a big walk or even on holiday for your dog - this way your faithful companion will always be well looked after and satisfied.
If the sniffing plate is turned upside down, material can be placed in the recess of the plate. This is ideal for training puppies' senses of touch and taste. Chippings, gravel, wood chips and sand can be placed in the 5 cm depressions. Even water (approx. 2 cm high) can be filled in... and of course food and small treats.
This article is easy to clean - just wipe it with a damp cloth and the plate can be stored away or used again without any problems.
With the supplied parts, this model can be built - the assembly instructions are of course included. Colours may vary slightly due to stock!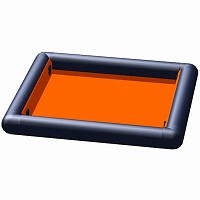 Warnings according to EU regulation:
Caution: Not suitable for children under 3 years when not assembled.
Small parts can be swallowed by children.
For domestic use only.
Please observe the safety instructions in the assembly instructions.
Assembly only by adults.
Use only under adult supervision.
from the category:

Minka and Fred