Minka and Fred - GOFI dog rocker Benetton/titanium grey
[MAS-6044]
Welcome to the exciting world of the GOFI Move and Stic dog seesaw - the perfect toy to encourage agility, balance and fun for your four-legged friend! This high-quality dog rocker not only offers your dog an entertaining challenge, but also strengthens the bond between you and your furry companion. The GOFI dog rocker from Move and Stic is made from robust, weather-resistant plastic that can withstand the rigours of play and the outdoors. With its sturdy construction and vibrant colours, it is suitable for both indoor and outdoor use. Your dog will love the challenge of the GOFI dog seesaw. This activity not only promotes his physical fitness and coordination, but also stimulates his play instinct and mental stimulation. Your dog will have fun keeping his balance as he explores the seesaw. The seesaw can be easily assembled and disassembled, making it a flexible toy for indoors and outdoors. It is ideal for providing your dog with exercise and variety while improving his skills.
The GOFI Move and Stic dog rocker not only brings your dog together, but also the whole family to enjoy exciting games. It's a great way to strengthen the bond between you and your dog and have fun together.
Encourage your dog's fitness and play instinct with the GOFI Move and Stic dog rocker. It's the ideal toy to promote your dog's physical and mental health and create unforgettable memories of exciting outdoor playtime. Let the adventures begin and experience the joy of playing with your faithful companion!
The advantage of this seesaw is its versatility. The seesaw can simply be placed on top of two obstacles - and the puppy seesaw becomes a puppy bridge. If the seesaw is turned upside down, the indentations in the plates are ideal for training the puppy's sense of touch, taste and perception. Grit, gravel, water, pieces of wood, sand and, of course, food can be placed in the 5 cm recesses.
Dimensions: 122 x 35 x 32 cm.
This model is compatible with other items from the Moveandstic range.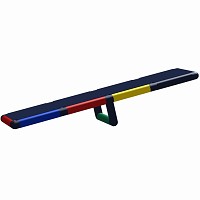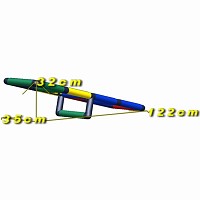 This model can be built using the parts supplied - the assembly instructions are of course included. Colours may vary slightly due to stock levels!
Warnings according to EU regulation:
Warning: Not suitable for children under 3 years of age when unassembled.
Small parts can be swallowed.
Only use under adult supervision.
from the categories:

Models for dogs
,

Minka and Fred