move and stic plate 40x40cm red with pirate steering wheel blue
[MAS-1978]
Wether on the pirate ship or play house.
Now your kids have the possibility to rebuild their Moveandstic model even more. Absolutely new in our assortment is the pre-assembled steeling wheel on a 20x40 panel.
The fixing happens normally with our pannel buttons by Moveandstic (not included to the scope of supply) - the screw connenction is prescirbed by us so (screwing is vertical left and right). We recommand to start with this pannel if you want to place more pannels.
Assembly 40x40 plate:
the pipes used must have a length of 4 x 35 cm
Place plate on tubes
Press the plate firmly into the tubes
Insert the record button (safety) on all four corners of the record and turn it by 90° - thus securing the record
Information about the pirate steering wheel for play towers
Full plastic ship steering wheel (HDPE)
Outside diameter: 340 mm, inside: 215 mm
Including hexagon head wood screws, diameter 10 x 40 mm
Including intermediate disc and cover
Extremely weather resistant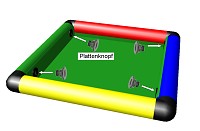 More novelties will you find here:
https://www.moveandstic.de/neuheiten/

Produktsicherheit
Für dieses Produkt gibt es folgende Sicherheitshinweise:
Benutzung unter unmittelbarer Aufsicht von Erwachsenen
Nicht für Kinder unter 36 Monaten geeignet
Nur für den Hausgebrauch
from the categories:
Extensions
,
Panels