Move and stic Set of 2 Football Goal Hockey Goal Rick without Net GREEN
[MAS-6634]
Kick off!
Become a professional footballer with Move and stic RICK. The goal can be used in the garden or in the children's room. The function of the goal can also be used not only for football, but leaves plenty of room for other sports that need a goal. Fun in the garden or in the playroom! With this set of 2 goals from Move and stic, you can score anytime and anywhere, enjoy a fun game of football or hockey or organise a goalkeeper challenge.
Additional tip-over safety is provided by our Move and stic Safety Set - This can be easily mounted to any structure and anchored into the ground (available separately in the shop).
Enter the wonderful world of creative building with Move and stic. Move and stic means fun and games for the whole family. Building is child's play with Move and stic. The system consists of tubes, couplings and plates in child-friendly colours, which are plugged and screwed together.
Move and stic building sets are modular, can be built together and can be adapted to any room situation. All Move and stic components are also available individually for ever new play fun and creative constructions. Play fun in the children's room and outdoors. Move and stic is weatherproof and made of high-quality, UV-resistant plastic. Easy to clean.
NOTE:
The price is for one set (2 goals).
Dimensions:
length 155cm, width 80cm, height 80cm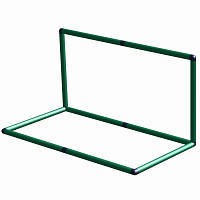 Warnings according to EU regulation
Caution
This item is not suitable for children under 3 years.
Small parts can be swallowed by children.
Only for domestic use.
Please note the safety instructions on the assembly instructions.
Construction only by adults.
Use only under adult supervision.
from the categories:
Sport and freetime
,

Small Sets
Variants