Moveandstic - Mina my first playhouse
[MAS-6302]
The MINA playhouse for toddlers is very suitable as a playhouse. Does your child want their first 4 walls?
Moveandstic Mina fulfills this wish. The playhouse has a red fabric roof. You can expand and customize this playhouse with additional panels and the functional panels from Move and stic. A large selection of functional panels in different colours are already available. How about a blackboard, a record with a bell, a game phone or your first own mailbox?
Dimensions: 104 x 85 x 137 cm
This model is compatible with other items in the Moveandstic range.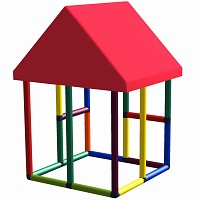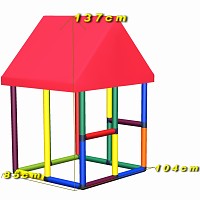 Building with Moveandstic is child's play.
The parts are simply plugged together and secured with special fuses.
Attention:
the colors of the components shown may differ from those of the delivered ones due to stock!
Colorful parts can be used to create the most amazing constructions in no time. With the Moveandstic you can build, among other things, a play bridge, a Punch and Judy show, ramps, climbing platforms, play stages and much more.
Of course, there are no limits to your imagination when designing with Moveandstic. In this way, new, adventurous playground equipment and even pieces of furniture are created again and again.
We recommend:
Even smaller and narrow structures become tilt-proof thanks to the safety set. This can be easily mounted on any structure and anchored in the ground! You can of course find it in our shop!
Fun for children from 3 years of age.
Warnings according to EU regulation
Caution
This item is not suitable for children under 3 years.
Small parts can be swallowed by children.
Only for domestic use.
Please note the safety instructions on the assembly instructions.
Construction only by adults.
Use only under adult supervision.
from the category:

Small Sets