Moveandstic EMI with toddler slide and telephone Benetton
[MAS-6242]
Welcome to the magical world of Moveandstic with the toddler play house EMI is a place where playing fun, creativity and adventures go along! This extraordinary toddler play house offers a lot of playing possibilities and invites the discoverer to inspire their own fanatsy and develop their own motoric skills in a playable way. The toddler play house EMI consists out of robust synthetic building blocks which are easy to connect with each other and build a secured and varied playing environment. With its long living colors and lovely details the toddler play house EMI can be changed into a highlight in every play room or garden. The modular design of the toddler play house EMI offers the parents to recreate it like their kids want it and so they can discover it in a new way over and over again. The different elements offer endless options for varied playing, role plays and challenges.
Either indoor in the child's room or outdoor in the backyard this Moveandstic toddler play house EMI is perfect for every climbing challenges. It is weather resistant and long living, to offer the kids a lot of joy and fun for many years.
Encourage the adventure fun of the kids with Moveandstic toddler play house EMI. It is the perfect play toy to encourage the skill, the physical development and unforgettable memories of exciting climbing experiences. Let the toddler play house EMI become a place full of joy and time for learning!

Measure: 155 x 85 x 125 cm.
This model is compatible with other articles of the Move and Stic assortment.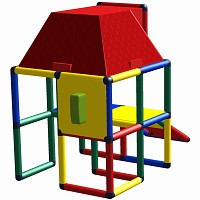 This model can be build up with the delivered pieces - the assembly instruction of course is within the scope of supply.
The colors may vary!

Warnings EU Regulation:
Attention: In unmounted condition not suited for children younger than 3 years.
Small parts can be swallow.
Only using under adults watch.
from the categories:
Climbing and sliding
,
Play houses