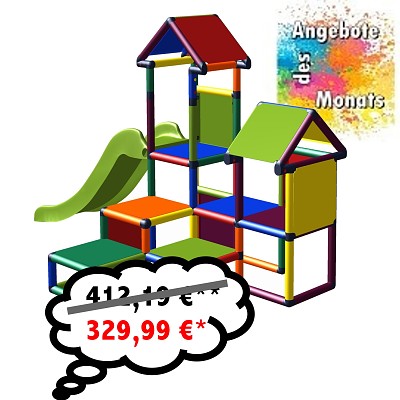 Moveandstic Gesa - Climbing Tower for Toddlers with Slide and Fabric Inserts, multicolor
[MAS-6499]
Please note: Unfortunately, this item can not be shipped abroad
Climbing tower for toddlers with slide and fabric inserts
This moveandstic model fits well into many gardens. The climbing tower has a slide, which is easily accessible through the 30 cm high steps. Toddlers can use the toddler slide made of ABS plastic to make first attempts to slide on the lawn, in the sandbox or in the nursery.
Dimensions: length 2.65 x width 1.34 x height 1.64 m
The model is compatible with individual components from the Moveandstic program and can be extended as required.
Including assembly instructions. The color composition of the individual parts may differ.
For public use, this model can be supplied with aluminum reinforcement for a surcharge. Please contact us in this case.
Safety note:
This item is not suitable for children under 3 years.
Small parts can be swallowed by children.
Only for domestic use.
Please note the safety instructions on the assembly instructions.
Construction only by adults.
Use only under adult supervision.
from the category:
Models up to 400 Euro