Moveandstic plate 40x40 cm red incl. yellow mailbox with red lid
[MAS-1960]
The mail was here!

Now the kids have the possibility to rebuild theit Moveandstic model even more. Absolutely new in our assortment is the pre-assembled mailbox on a 40x40 panel.
The fixing happens normally with our pannel buttons by Moveandstic (not included to the scope of supply) - the screw connenction is prescirbed by us so (screwing is vertical left and right). We recommand to start with this pannel if you want to place more pannels.
Delivered: 1 x red 40x40 plate with mounted
Yellow mailbox with red cover!
Montage:
40x40 pannel: used tubes need to have a lenghts of 4 x 35 cm
pannel laying on tubes
pushing in the pannel to the tube
pannel button (security) pushing in to every four edges and turning by
90° - secures the pannel
Informations about the mailbox for play towers:
Measures: 250 x 226 x 136 mm
child-friendly use
consist of long-lasting plastic
wood screws 3 x 20mm incl.
extremly weather-resistant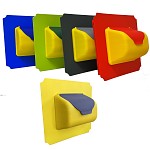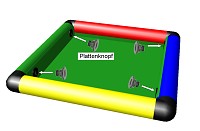 More novelties will you find here:
https://www.moveandstic.de/neuheiten/

from the categories:
Extensions
,
Panels