Sadly, we have to tell you that we can not deliver before August 15th.
Because of raw material scarcity and high order volume, we are not able to produce.
Single parts are available, while stocks last.
Thank you for your understanding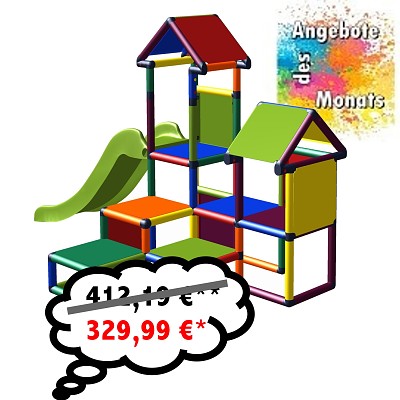 Play tower Gesa - Climbing tower for toddlers with slide, multi-colored
[MAS-6499]
Please note: Unfortunately, this item can not be shipped abroad
Climbing tower for toddler with slide and fabric inserts (Gesa)
This Moveandstic model fits into every garden. The climbing tower includes a slide which is easy to reach because of the step height of 30 cm. Eventhough toddlers are able to make their first sliding experiences on the toddler slide consisting out of ABS-synthetic.
Measures:
lenght 2,65 x width 1,34 x height 1,64 m
This model is compatible to single parts of Moveandstic and can be expand all the time.
The assembly-instruction is included. The colors of the single parts may vary a bit.
For public use this model can also be delivered with amplification of aluminium for an extra charge. Please just contact us!
Warnings EU Regulation:
Attention: In unmounted condition not suited for children younger than 3 years.
Small parts can be swallow.
Only using under adults watch.
from the category:
Models up to 400 Euro