Minka and Fred - Beethoven dog kennel with fixed roof
[MAS-6049]
Step into the world of Move and Stic and discover the new products of the 'Minka & Fred' series! The new product line now offers great models also for your pets – either for cats or for dogs – here you can indivdually find the perfect product for you and your furry family member!
This Dog's Cottage offers a great place for dogs, puppies or cats and will become the new favorite spot for your pet.
Of course the Dog's Cottage can either be used for dogs but also for cats. It offers a great place to retreat and can be built up either indoor or outdoor.Natürlich kann die Hundehütte sowohl für Hunde, aber auch für Katzen genutzt werden.
The cottage has a solid roof and so your pet has a silent and safe place does not matter what weather conditions. Either on warm sun days or on wet rain days – your dog will feel just very happy inside the cottage.
Quickly and build up everywhere you can conjure a new home for your dog!
This article is easy to clean – just wipe it off and then the ball pool can be used again.
This model can be build up with the delivered pieces - the assembly instruction of course is within the scope of supply.
The colors may vary!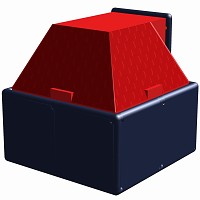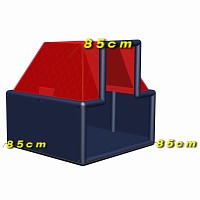 Warnings according to EU regulation
Caution
This item is not suitable for children under 3 years.
Small parts can be swallowed by children.
Only for domestic use.
Please note the safety instructions on the assembly instructions.
Construction only by adults.
Use only under adult supervision.
from the category:

Minka and Fred