Move and stic - JOSI house boat Benetton
[MAS-6132]
Step in to an exciting world of Move and Stic house boat JOSIE - a beautiful oasis of fanatsy which takes your kids to an adventure on the high sea! This unique playing house offers not only playing fun but also it offers a room for role plays and creative thinking. The Move and Stic house boat JOSIE is a thought-out design out of robust synthetic building blocks which are easy to connect with each other. Its maritime design with steeling wheel and a cozy cabin change the house boat into a heart piece of the playing area and to a scene for exciting seafaring adventures. Your little adventures will love the playing and discovering on the ship. With the real steeling wheel und the cozy cabin the model offers endless possibilities for role plays and creative fun. Your little captains can conquer the sea, discover treasures and invent exciting stories about the life on sea. The modular desgin of the house boat offers you to adapt the model like your kids want it to be and so they can discover it in a new way over and over again. The diverse play toy encourages the creativity and social interaction because the kids can play together, talking about stories and making unforgettable memories.
The Move and Stic house boat JOSIE is weather resistant and long living so it is usable either indoor and outdoor. It is a secured and exciting place where kids can let off steam and at the same time they develop creative skills.
Encourage the thirst of adventure and creativity of children with the Move and Stic house boat JOSI. It is the perfect play toy to encourage the fanatsy and social skills and make unforgettable memeories of maritime adventures. Set the sails and experince the joy of creative playing on the sea!

Measure: 134 x 245 x 125 cm.
This model is compatible with other articles of the Move and Stic assortment!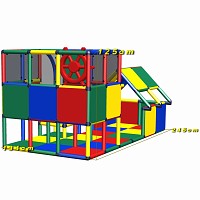 This model can be build up with the delivered pieces - the assembly instruction of course is within the scope of supply.
The colors may vary!

Warnings according to EU regulation
Caution - Not suitable for children under 3 years when not assembled.
Small parts can be swallowed by children.
For domestic use only.
Please observe the safety instructions in the assembly instructions.
Assembly only by adults.
Use only under adult supervision.
from the categories:
Play ships, knight castles and vehicles
,
Climbing and crawling