Move and Stic knights castel CASTLE titanium grey/red
[MAS-6551]
The Move and Stic knights castle is a captivating play equipment which abduct little adventurer in to the world of Medieval. The set consists out of robust synthetic building blocks which are easily connected to each other to create an impressive kngihts castle. The knights castle offers many play opportunities and animate the kids fantasy. The knights castle encourages the physical development, the social interaction and the role play of the children. It offers a safe platform to encourage the motoric skills and at the same time to discover the history of knighthood. The Move and Stic knights castle is a fascinating play world which inspires the imagination of the kids and gives them an unforgettable adventure in the world of the knights. It is the perfect play article for young knights and damsels to step into their own fantastic history.
The Move and Stic knights castle set is weather resistant and can be placed either indoor or outdoor.It is a strong and long living play equipemtn which offers the kids a lot of playing fun for years. Das Move and Stic Ritterburg-Set ist wetterbeständig und kann sowohl drinnen als auch draußen verwendet werden.

Measure: 134 x 134 x 194 cm.
This model is compatible with other articles of the Moveandstic assortment.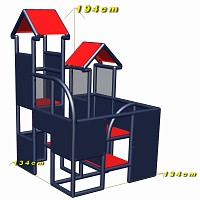 This model can be build up with the delivered pieces - the assembly instruction of course is within the scope of supply.
The colors may vary!


Warnings according to EU regulation
Caution
This item is not suitable for children under 3 years.
Small parts can be swallowed by children.
Only for domestic use.
Please note the safety instructions on the assembly instructions.
Construction only by adults.
Use only under adult supervision.

from the categories:
Climbing and sliding
,
Climbing and crawling
,
Play ships, knight castles and vehicles