Move and Stic play house MINA with roof top multi colored
[MAS-6302]
The Move and Stic play house for toodlers is a great play house with rood top for toddlers is a great play equipment which offers the kids a secured and adventurous playing environment. The set consists out of robust synthetic building blocks which are easily put together to build a strong and weather resistant play house. The play house has a child friendly door and window which invite to open and close and animate the role play for the kids. The integrated roof top offers a nice shadow and protection against soft rain so that the kids can either play indoor and outdoor. The Move and Stic play house with roof top is a cute play equipment which inspires the kids imagination and offer them their own little play to retreat and to play and discover. It promises unforgettable adventures and a happy moment for the youngest and is the perfect adaption for every play area.
The play house can be expanded easily and so it grows with the childre. It is a long living and robust play equipment which gives the kids so much playing fun for years.
Measure:
85 x 104 x 137 cm.
This model is compatible with other articles of the Move and Stic assortment.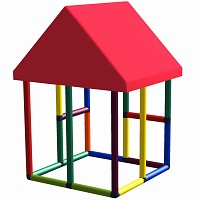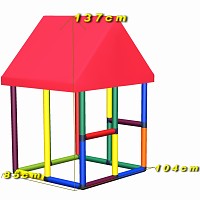 This model can be build up with the delivered pieces - the assembly instruction of course is within the scope of supply.
The colors may vary!
Warnings according to EU regulation
Caution
This item is not suitable for children under 3 years.
Small parts can be swallowed by children.
Only for domestic use.
Please note the safety instructions on the assembly instructions.
Construction only by adults.
Use only under adult supervision.
from the categories:
Play houses
,

Small Sets